Kitchen Remodeling Services
Get the Kitchen You've Always Wanted
The kitchen is typically the first project that comes to mind when people want to update their homes. We spend so much time in this room – cooking, eating and entertaining guests – that it's no surprise that many homeowners want a larger or more efficient kitchen.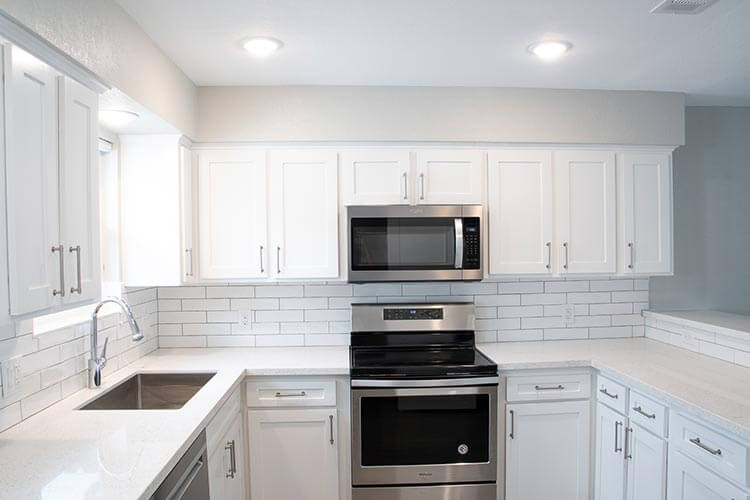 While popular, kitchen renovation projects can cause major disruptions. That's why it's important to work with an experienced house remodeling company like Fort Bend Builders. We'll schedule the project when it works best for you, and we'll strive to ensure that we interrupt your life as little as possible.
How to Prepare for a Kitchen Renovation Project
Fort Bend Builders knows that the construction process can be daunting. You have people coming into and out of your home throughout the day, and your life is upended. To minimize how much a kitchen renovation project will affect your daily schedule, it pays to do some upfront work:
Create a temporary kitchen. Move appliances to another room if possible. A spare microwave and even a small refrigerator placed where you can access them can dramatically improve your overall comfort.
Set up a place for meals. If you have a basement or even a spare room, add a table for meals.
Use disposal plates and utensils. It's easier to throw these away for a few days than try to find a place to wash dishes.
Determine a take-out budget. Some nights, you won't have the energy to cook, so have a budget for take-out or delivery.
Let's Talk About Your Project
Fort Bend Builders is a top-rated design-build house remodeling company serving homeowners in and around Houston. We truly care about quality, and we strive to make the construction process hassle-free. Our team knows what works and what doesn't. Talk to us to learn more about us and our process. Call us today at (713) 714-1343, or you can fill out our online form.