House Remodeling and Design/Build Services
We Make Your Dream Home a Reality
Most homeowners think about redoing their kitchen or perhaps even adding an extension to their home. Yet, few actually ever progress to creating a plan for the project. Creating a project plan is extremely important for all house remodeling jobs – but especially for home additions. With the latter, you have to make sure that the new design fits seamlessly with the home's original layout and look.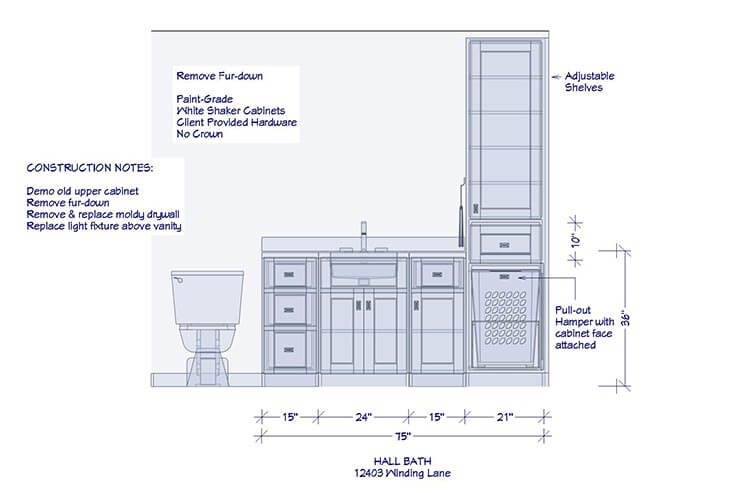 While you can hire residential architects to do the design, you typically have to find an outside remodeling contractor to do the construction. This means dealing with two different teams who often have different visions. Plus, if something goes wrong, you may have to deal with bickering and finger-pointing if neither company takes responsibility for the issues.
At Fort Bend Builders, we are a design-build company, meaning that we can create the plans as well as expertly execute the construction.
Our Design Process
The designers at Fort Bend Builders are fully educated on the latest trends, materials and solutions. During our consultation, we'll inspect the space, take measurements and listen to your ideas about what you want done – whether it's a bathroom update, custom room addition or whole house remodeling project.
Part of the reason for coming to your home is not only to hear your vision for your home renovation, but also to get a feel for the area. There's nothing worse than a room addition that sticks out like a sore thumb! Once we've done our initial consultation and walk-through, we'll go back to our drawing board, draw up a plan and present it to you.
Learn More Today
Fort Bend Builders wants to make the house remodeling process as easy and stress-free as possible. We believe in open communication and doing quality work – from start to finish. Let's talk about your needs during our initial consultation. Call us today at (713) 714-1343, or you can fill out our online form.