Our Construction Process
We Make the Entire Project Less Daunting
Fort Bend Builders believes in making the construction process as stress-free as possible. We enjoy finding the little things that, if tweaked just so, make your everyday life just a little bit easier. By immersing ourselves in the project and learning how you live day-to-day, we can help you design for not only your present, but also your future!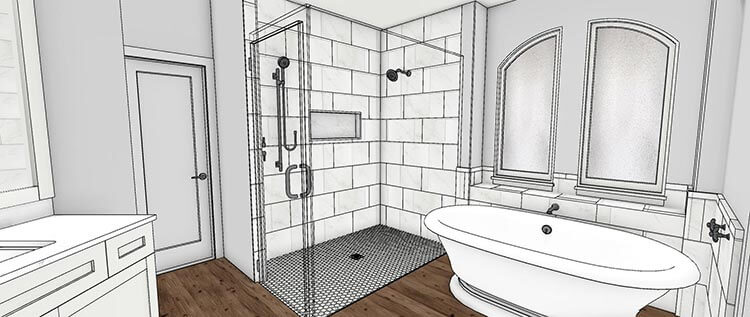 Throughout the entire process, we are responsible with your money and respect your budget. Our top priority is to listen to you before offering suggestions and solutions so that you have all the information you need to make the best decisions for your project. It is our job to help you discover your wants and needs, and where specifically to put your money to achieve the look and function you want. With the help of detailed 3D renderings, our clients are able to truly visualize the finished product.
Fort Bend Builders prioritizes quality communication and organization. With the help of an application called Co-Construct, our clients have access to diagrams, pictures, renderings, measurements and communication with contractors, all in one convenient place.
Why Choose Our Company
At Fort Bend Builders, we recognize that your everyday life does not stop just because construction is underway. Therefore, we do everything we can to efficiently separate construction areas from living areas within your home. To help prevent dust accumulation, we set up room or whole-house dust collection systems, temporary walls and designated construction entrances. We also take every precaution to protect your flooring and furniture from construction wear and tear.
We work hard to surround ourselves with the very best in each trade – from architects and designers to carpenters and electricians. It is important to us that they have the same emphasis on communication and business approach that we do. Attention to detail and proactive communication make remodeling a less stressful process. We take pride in not just remodeling a space or completing an expansion, but making a positive impact on our clients' lives.
We're the General Contractor That You Can Trust
Fort Bend Builders is the general contractor that you can call on for all your design and construction needs. Contact us today at (713) 714-1343, or you can fill out our online form.
Service Area
Fort Bend Builders serves the Greater Houston Area performing home remodeling services to Fairchilds, Simonton, Sealy, Piney Point Village, Manvel, Jersey Village, Industry, Hunters Creek Village, Hedwig Village, Hilshire Village, Fulshear, Westin Lakes, Memorial, Richmond, Montrose, Midtown, Bellaire, River Oaks, Afton Oaks, Heights, Medical Center, Pecan Grove, Westchase, Spring Branch, Panorama Village, Galleria, Cat Spring, Chappell Hill, Greatwood, East Bernard, Nottingham, Rice Village, Brookside Village, Bunker Hill Village, Bellville, Cinco Ranch, Fresno, Greatwood, New Territory, Sienna Plantation, Bellaire, Katy, Stafford, Missouri City, Rosenberg, Sugar Land, and West University Place